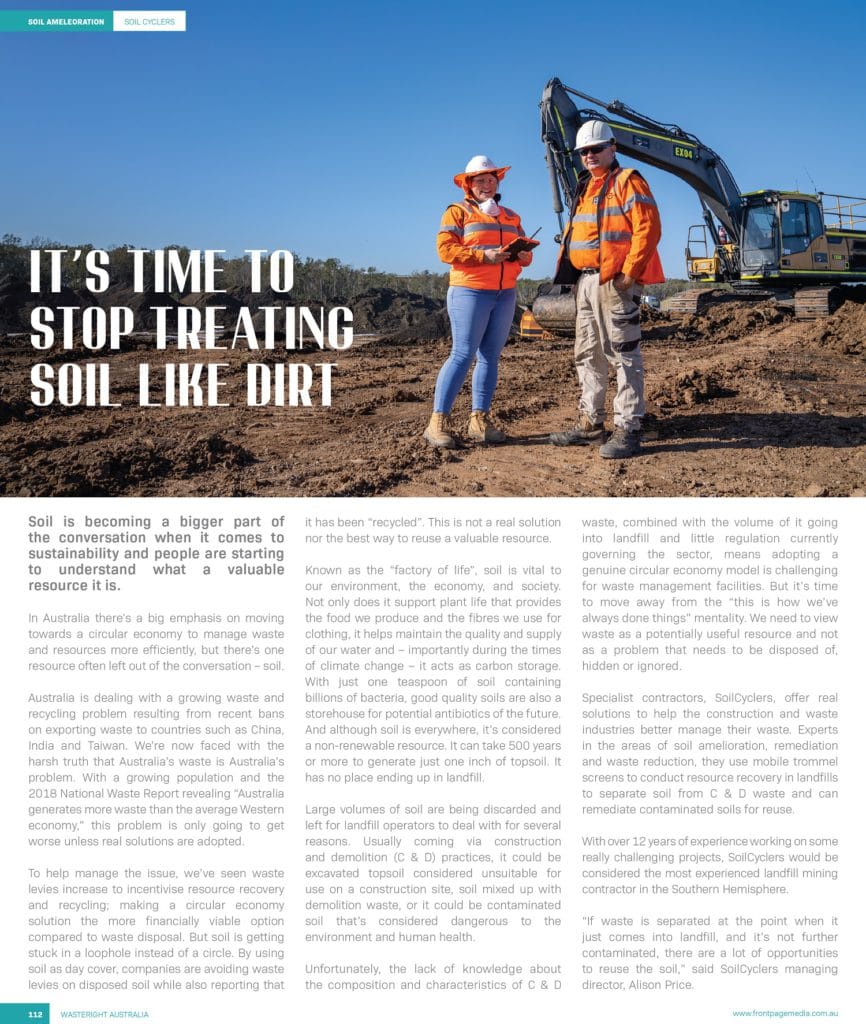 SoilCyclers was recently featured in the inaugural issue of WasteRight Australia – a new bi-annual publication that puts a spotlight on the waste industry and the exciting initiatives happening in waste management.
In this article, we got to highlight how important it is to start viewing soil as a valuable resource that shouldn't end up in landfill no matter what condition it's in.
Whether it's excavated topsoil considered unsuitable for reuse onsite, soil mixed up with demolition waste, or soil that has been contaminated, we have many solutions to treat and reuse the soil instead of dumping it.
Our Managing Director, Alison Price, explained what we can do at SoilCyclers to help waste management facilities manage soil waste more sustainably.
"If waste is separated at the point when it just comes into landfill, and it's not further contaminated, there are a lot of opportunities to reuse the soil," said Alison.
"We can test the soil and then mix things with it to meet a specification for reuse, and we can immobilise, bind or neutralise contamination. We can recover all types of soil, treat it, and then reuse it on construction projects, highway projects, as extra fill, or it can be turned into topsoil for landscaping."
Read the full article by clicking on the image above. You can also read the first issue of WasteRight Australia here.
If you would like assistance with managing or reducing waste, or treating contaminated soils, give us a call on 1300 748 388.